The first long-acting myeloid growth factor in over 20 years that is not a biosimilar1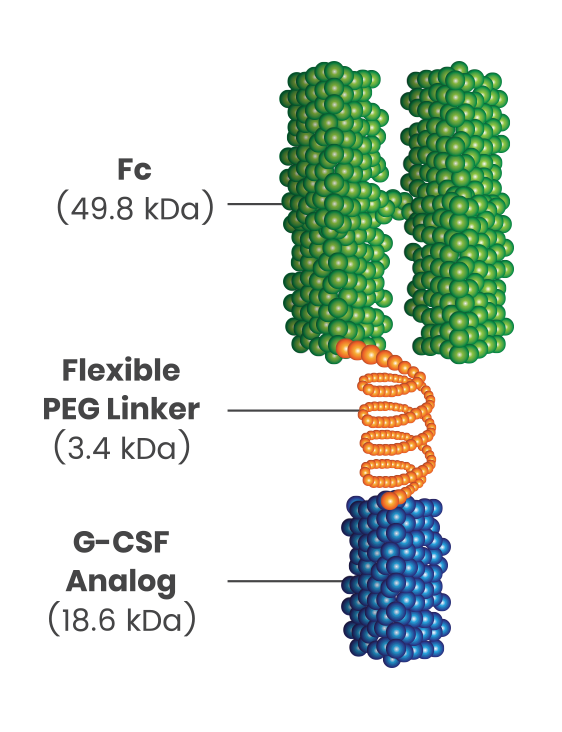 Introducing ROLVEDON™:
Novel formulation combines a granulocyte colony-stimulating factor (G-CSF) analog with an Fc fragment of human immunoglobulin G4 (IgG4)2
Supported by a complete innovator biopharmaceutical development program
Selected Safety Information
Serious Allergic Reactions
Serious allergic reactions, including anaphylaxis, can occur in patients receiving rhG-CSF products. Permanently discontinue ROLVEDON in patients who experience serious allergic reactions.
FcRn facilitates ROLVEDON transcytosis1-3
It has been shown in:

in vitro

studies2:

To bind the neonatal Fc receptor (FcRn), which facilitates transcytosis

in vivo

animal studies:

To facilitate uptake and retention in the bone marrow

The clinical significance of these findings is unknown
Watch MOA video
References:
Schwartzberg LS, Bhat G, Peguero J, et al. Eflapegrastim, a long-acting granulocyte-colony stimulating factor for the management of chemotherapy-induced neutropenia: results of a phase III trial. Oncologist. 2020;25(8):e1233-e1241.
ROLVEDON [package insert]. Irvine, CA: Spectrum Pharmaceuticals, Inc.
Kim Y, Choi I, Kolli P, Reddy G. In vivo efficacy of eflapegrastim in rats with chemotherapy-induced neutropenia. Presented at: American Association for Cancer Research (AACR) Annual Meeting 2017; April 1-5, 2017; Washington, DC.
ROLVEDON is administered via a single subcutaneous dose